For my birthday I received a package of Tim Holtz-fragments from my friend Velva. I have wanted to use them for so long but didn't want to "waste" them either. I pondered using them on some cards or one of my ATC swaps but didn't have enough of the same size... plus they might be a little thick for mailing. Anyway, I was working on my Swap A Crop layout and knew this project was perfect to try out these fragments.
Here is what I made: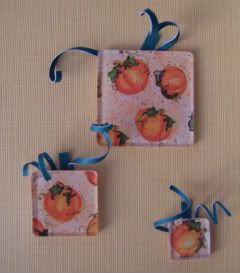 This months theme for SAC was submitting fall themed pics or if you didn't have fall pics the person creating your layout would use fall colors. I got some really cute pictures of a little boy a the pumpkin patch. So instead of using my Cricut to make little pumpkins I made square ones with the fragments and curled green paper for the vine. I will show you the pic of the layout next week, after I know the recipient has received it.
I really enjoyed using them. I still have more to use but I just might have to pick up some more. They are kind of addicting. If you haven't tried them I would recommend doing so. You will not regret it.