I was not feeling my "quilting" ATC swap that I joined. I just didn't know what to do what paper to use and how I wanted it to look. I try to challenge myself because some of the ladies I swap with are so talented. I don't ever want them to think mine are not all that neat if you know what I mean.
So I decided I wanted to do some stitching on the outside of the rectangle and then put batting between the layers for a quilted look. Thought long and hard about doing an applique on the ATC and this is what I came up with: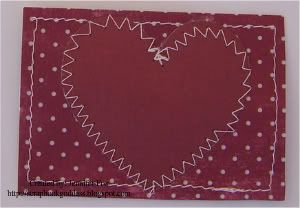 I flipped though my paper and found this really pretty, simple and kind of quilt like burgundy paper. Much to my surprise I found cardstock to match. I decided on doing a heart shape for the applique because the couple of extra samples/tests I made I could use on Valentine cards. I got the hearts cut out with my Cricut and then entered Mom into the picture.... I am not a very good sewer. My Mom offered to help me assemble and gave some great input on my batting location and stitch among other things. Thanks to her the sewing got done. If she hadn't stepped in the pieces might still be sitting on my table. Thanks Mom for the help!