I just love this picture and I couldn't wait to scrap it. I knew SU had the perfect paper, bella rose. This picture is from my BFF's reception with my younger brother, Mom and I.
Here is a detail of the embossing on the chocolate chip background cardstock. The set I used is Sprinkles (Thanks Michelle!)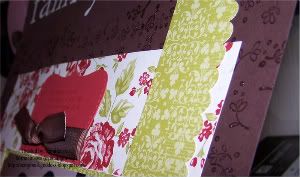 I just can't keep from looking at it. I am trying to find a plate holder (the one I used for the pic is broken) and do you think there would be any in town? NO! Oh well next time I get out of the valley I will pick one up so I can prop this layout up in my office.